Heads up:
We're moving the GATK website, docs and forum to a new platform. Read the full story and breakdown of key changes on this
blog
.
Notice:
If you happen to see a question you know the answer to, please do chime in and help your fellow community members. We encourage our fourm members to be more involved, jump in and help out your fellow researchers with their questions. GATK forum is a community forum and helping each other with using GATK tools and research is the cornerstone of our success as a genomics research community.We appreciate your help!
Test-drive the GATK tools and Best Practices pipelines on Terra
Check out this blog post to learn how you can get started with GATK and try out the pipelines in preconfigured workspaces (with a user-friendly interface!) without having to install anything.
Pathseq pipeline fatal error
biff
Member
We are trying to run the Path-seq pipeline (PathSeqPipelineSpark) using a bam that contains bulk RNA-seq reads we extracted from a human sample but do not map to the human genome. We are hoping to find out what these reads might be. We have downloaded the tutorial and it runs great. We are using all of the files from the ftp path for the microbe fasta & img, host img, and taxonomy files. All of our options are identical to those given in the tutorial. We are running into a "fatal error detected by the Java Runtime Environment." It seems to be occurring in stage 21. It also says the crash happened outside the Java Virtual Machine in native code. We have allocated ample memory for the pipeline so we don't think memory is causing the issue. Are there any ideas as to what we could do to get around this error?
Much thanks!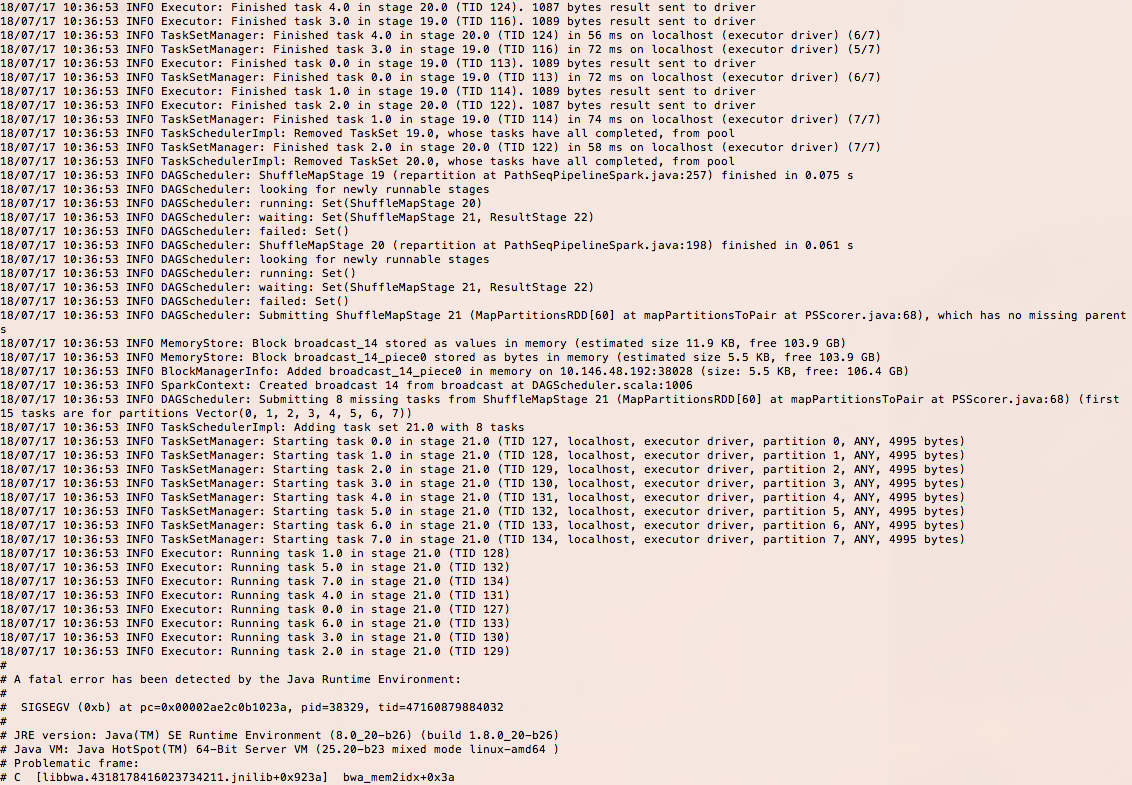 Tagged: