Test-drive the GATK tools and Best Practices pipelines on Terra
Check out this blog post to learn how you can get started with GATK and try out the pipelines in preconfigured workspaces (with a user-friendly interface!) without having to install anything.
A fatal error has been detected by the Java Runtime Environment when using MuTect2
xiaolongge
china
Member
✭
Hi,
I used MuTect2 for somatic SNV and indels calling and tested 9 tumor and matched normal WGS samples.
../jdk1.8.0_91/bin/java -jar ../GenomeAnalysisTK-3.6.jar
-T MuTect2
-R ready_bwa_reference_genome/hg19_complete.fasta
-I:tumor /pub6/GastricCancer/ZX/bam.ready/G01H.recal.bam
-I:normal /pub6/GastricCancer/ZX/bam.ready/G01N.recal.bam
--dbsnp known_sites_database/dbsnp_138.hg19.vcf
--cosmic known_sites_database/hg19_cosmic_v54_120711.vcf
--comp:hapmap known_sites_database/hapmap_3.3.hg19.sites.vcf
--comp:1000Genome known_sites_database/1000G_phase1.snps.high_confidence.hg19.sites.vcf
--comp:COSMIC known_sites_database/hg19_cosmic_v54_120711.vcf
-o GastricCancer/ZX/G01/G01_cosmic_mutect2.vcf
One sample worked successfully all the way:


But other samples was detected fatal JRE error at the end: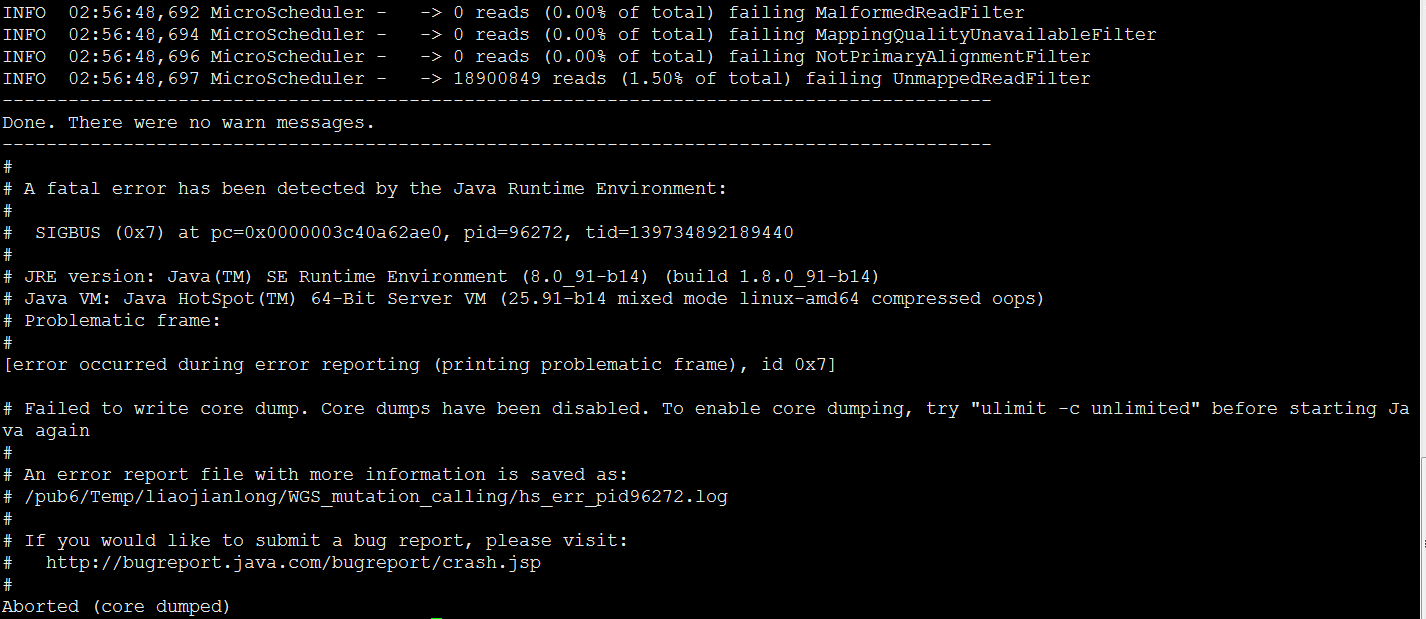 I want to know may I ignore the fatal JRE error because MuTect2 had finished it's work and vcf.idx file had been created?
Thanks
xiaolongge
Tagged: