Notice:
If you happen to see a question you know the answer to, please do chime in and help your fellow community members. We encourage our fourm members to be more involved, jump in and help out your fellow researchers with their questions. GATK forum is a community forum and helping each other with using GATK tools and research is the cornerstone of our success as a genomics research community.We appreciate your help!
Test-drive the GATK tools and Best Practices pipelines on Terra
Check out this blog post to learn how you can get started with GATK and try out the pipelines in preconfigured workspaces (with a user-friendly interface!) without having to install anything.
Away Workshop (Philadelphia) 2014 Sep 18-19: Best Practices for Variant Calling with GATK

Geraldine_VdAuwera
Cambridge, MA
Member, Administrator, Broadie
admin
Eric Banks, Sheila Chandran and Geraldine Van der Auwera presented this workshop in Philadelphia, PA, upon invitation from the School of Medicine at UPenn.
This workshop covered all the core steps involved in calling variants with the GATK, using the "Best Practices" developed by the GATK team. The presentation materials describe why each step is essential to the calling process, what are the key operations performed on the data at each step, and how to use the GATK tools to get the most accurate and reliable results out of your dataset. This includes specific information about variant calling in RNAseq data and efficient analysis of cohorts.
The material was presented over two days, organized in the following modules:
Data pre-processing: From FASTQ to analysis-ready BAM
Variant Discovery: From BAM to analysis-ready VCF
This was complemented by a set of hands-on exercises aiming to teach basic GATK usage to new users.
The workshop materials are available at this link if you're viewing this post in the forum, or below if you are viewing the presentation page already.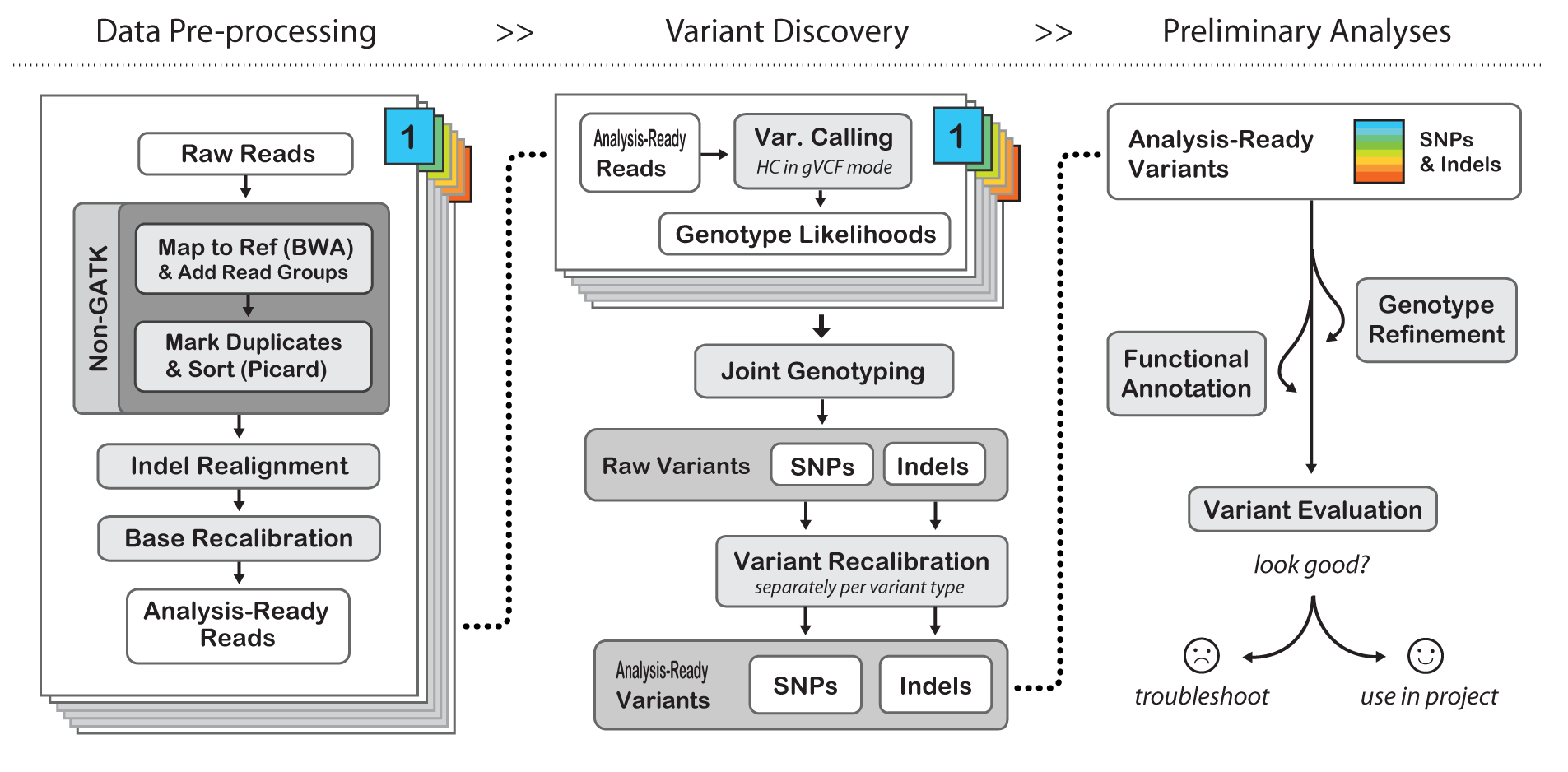 Post edited by Geraldine_VdAuwera on
Tagged:
This discussion has been closed.