Notice:
If you happen to see a question you know the answer to, please do chime in and help your fellow community members. We encourage our fourm members to be more involved, jump in and help out your fellow researchers with their questions. GATK forum is a community forum and helping each other with using GATK tools and research is the cornerstone of our success as a genomics research community.We appreciate your help!
Test-drive the GATK tools and Best Practices pipelines on Terra
Check out this blog post to learn how you can get started with GATK and try out the pipelines in preconfigured workspaces (with a user-friendly interface!) without having to install anything.
Haplotypecaller calls variants at a deletion region
carolynzy
Member
❠
Hi,
I'm having a confusing problem when using haplotypecaller.
Basically, I'm using haplotypecaller calling variants among more than 400 M. tuberculosis samples, sequenced with Hiseq2500 platform. I followed the workflow for calling variants on cohort samples as described here: https://gatkforums.broadinstitute.org/gatk/discussion/3893/calling-variants-on-cohorts-of-samples-using-the-haplotypecaller-in-gvcf-mode
I find a problem with some samples when checking the SNPs called by this procedure. For example, as in Sample1, as show in this figure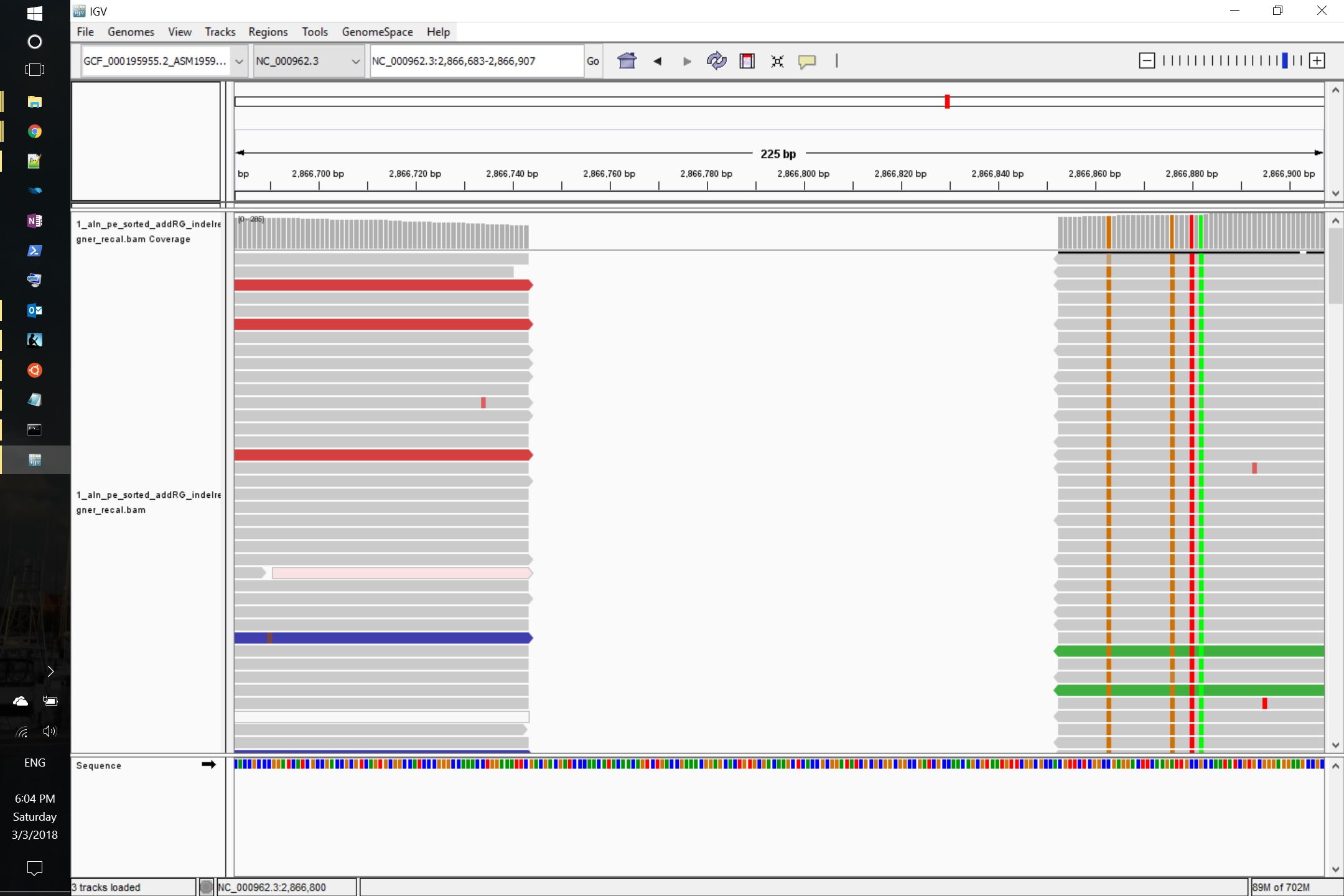 ,there seems to be a deletion at the position 2866805. However, the GATK3.8 called a SNP at this position, as shown in the excerpt from the vcf file below:
NC_000962.3 2866805 . C G 8160 . AC=1;AF=1.00;AN=1;DP=182;FS=0.000;GQ_MEAN=8190.00;MLEAC=1;MLEAF=1.00;MQ=50.38;MQ0=0;NCC=0;QD=31.09;SOR=0.917 GT:AD:GQ:PL 1:0,176:99:8190,0
In total, haplotypecaller called 11 snps at this deletion region.
So I'm confused that why haplotypecaller called a snp variant when bam file shows there is a deletion? I would really appreciate if you could help me to figure this out. Thank you in advance!
P.S. after finding this problem, we also tried UnifiedGenotyper on Sample1, and the variants at the deletion region were not called this time.
Tagged: